Yesterday, I shared some ways God protected my husband's life, and I asked you to think about times when the Lord protected you. Now it is my turn. When I was in Mexico I took part in a five-month jungle training course. I hoped God would help me survive the rigors of the program!
One week, we all went on a river trip. We used huge dugout canoes that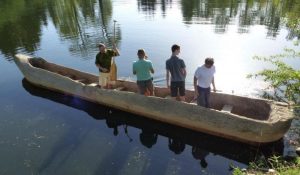 each held eight people. Because we had to stand up to paddle, our director warned us that if we went through rapids, hit a rock and fell out, we should fall out upstream so the canoe would not crush us. Sure enough our canoe hit a rock and one person fell out…upstream. With that person's weight gone, the canoe was lighter and rose up and plunged downstream. We hit a dead tree trunk and another person fell out… upstream.
Then we crashed into a second rock shelf. I flew out of the canoe, landing…downstream. The director of the trip was standing in the front of our canoe, and all he could see was that the canoe, with its several tons of mahogany, had landed smack on top of me. The director's face was white as Moses' beard.
But by some miracle, my heavy paddle was still in my hand and came between me and the oncoming canoe, creating a wedge that took the brunt of the impact. The Lord protected me from being crushed or paralyzed. I quickly clambered out and stood up with a shout of praise. As I continued through those five months of training, the Lord saved my life multiple times, from fires, horse hooves, snakes and even explosions. Each time I praised God for his watchful care.
One of the other results of having hope in God is praise. As Psalm 71:14 says, "I will keep on hoping for you to help me; I will praise you more and more!" This Christmas, are you praising him more and more?